The use of ski area premises and facilities and participation in activities at ski areas involves various risks, dangers and hazards. It is a condition of your use of the premises and facilities and your participation in these activities that you assume all risk of personal injury, death or property loss resulting from any cause whatsoever, including negligence, breach of contract, or breach of any duty of care on the part of the ski area operator. Your legal responsibility as a user of the ski area premises and facilities or participant in activities at the ski area is explained in the following notice, which you will see posted at the ski area.
Alpine Skiing and Snowboarding
Alpine skiing and snowboarding involves various risks, dangers and hazards including, but not limited to the following
boarding, riding and disembarking ski lifts;
changing weather conditions;
avalanches;
exposed rock, earth, ice, and other natural objects;
trees, tree wells, tree stumps and forest deadfall;
the condition of snow or ice on or beneath the surface;
variations in the terrain which may create blind spots or areas of reduced visibility;
variations in the surface or sub-surface, including changes due to man-made or artificial snow;
variable and difficult conditions;
streams, creeks, and exposed holes in the snow pack above streams or creeks;

cliffs; crevasses;
snowcat roads, road-banks or cut-banks;
collision with lift towers, fences, snow making equipment, snow grooming equipment, snowcats, snowmobiles or other vehicles, equipment or structures;
encounters with domestic and wild animals including dogs and bears;
collision with other persons;
loss of balance or control; slips, trips and falls;
accidents during snow school lessons;
negligent first aid;
failure to act safely or within one's own ability or to stay within designated areas;
negligence of other persons; and NEGLIGENCE ON THE PART OF THE OPERATOR
and its directors, officers, employees, instructors, agents, representatives, volunteers, independent contractors,
subcontractors, sponsors, successors and assigns.
infections disease contracted through virus, bacteria, parasites and fungi which may be transmitted through direct and indirect;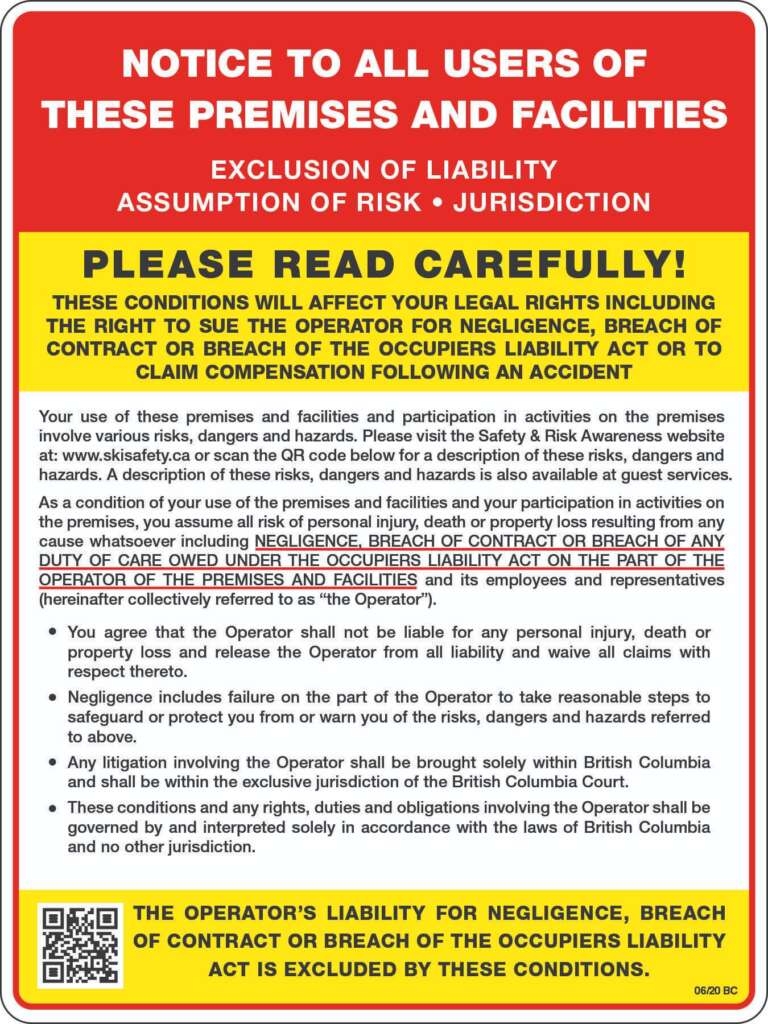 Alpine Responsibility Code
The Alpine Responsibility Code provides the basic rules of conduct and must be followed by all using the terrain, and is consistent across all Ski Areas of Western Canada.
Always stay in control. You must be able to stop, or avoid other people or objects.
People ahead of you have the right-of-way. It is your responsibility to avoid them.
Do not stop where you obstruct a trail, or are not visible from above.
Before starting downhill or merging onto a trail, look uphill and yield to others.
If you are involved in or witness a collision/accident you must remain at the scene and identify yourself to the Ski Patrol.
Always use proper devices to help prevent runaway equipment.
Observe and obey all posted signs and warnings.
Keep off closed trails and obey area closures.
You must not use lifts or terrain if your ability is impaired through the use of alcohol or drugs.
You must have sufficient physical dexterity, ability, and knowledge to safely load, ride, and unload lifts. If in doubt, ask the lift attendant.
Also, be aware of https://skisafety.ca/ and Mountain Bike Responsibility Code.
Learn more about the Alpine Responsibility Code in this Video.